Here are the best freelance websites for beginners to start freelance careers to find out a new job and to win clients easily. Here you can learn how to win clients, convince them why you are the best service provider for them and can earn money. Below are the some of best website to start freelancing.
1. Upwork
2. Fiverr
3. People per hour
4. Freenlancer.com
5. Guru
6. Flex jobs
1. Upwork
Upwork is one of the top sites in the field of freelancing for beginners to find out jobs at this platform. This site has more than 1.5 million clients who post several positions daily which is the best opportunity for one who starts freelancing. In this freelance site, clients display both long term and short term goals also, if you are an expert in your field, they will hire you for an hourly fixed long term project.
To find out new and high paid clients, all you need to do is create an attractive and authentic profile at this freelance to win your first clients. Make your portfolio of previous work that you did to prior clients. You will provide excellent services than clients will give you good feedback.
Website charge 20% for an individual gig. There are thousands of jobs post every day and opportunities for you all you need to do are polish your skill.
2. Fiverr
Fiverr is one of these freelance sites that are mostly rank in the list of top-rated sites for beginners who enter in freelancing. It provides an easy way to freelancers to make their profiles on this site. All you need to understand is how you can use this freelance site in a significant way. 
Several clients post thousands of jobs daily at this site related to digital marketing, SEO, graphic designing, writing, data entry jobs, and many more. You can market your services through this freelance platform and can win more clients.
3. People per hour
This website is a UK based freelancing platform the best opportunity for freelancers to find more works. More than one million users work on this freelance platform to pursue their freelance careers. Clients from a worldwide post several jobs on this freelance site.

You can win high paid clients through this site if you know how to use strategies to work on this site. Clients will pay you according to your project or by the hour.
4. Freenlancer.com
This freelance site is one of the most prominent places for posting a considerable number of jobs. More than 12.6 million jobs posted on that platform which is an excellent opportunity for beginner freelancers. When you sign in at this platform, you get eight free apps without paying membership charges.
In this site, most of the jobs posted like data entry, content writing, digital marketing, human resources, etc. 
This website mainly made to build the connection between the sellers and buyers by link. This freelance site is popular among the freelancers that it allows them to market their services. If you are a freelancer, then you can easily earn more through this website by selling your services.
You can big easily on freelance projects like data entry, social media marketing, web development, etc. this platform also provides the monthly and annual packages and their price packages are trustworthy.
5. Guru
This site provides ease to the beginner freelancer who starts their freelance career. On this site, people can work in finance, data entry, engineering administrative, marketing, and jobs like that. Its payment method is more reasonable as compared to other freelance sites like Upwork and Fiverr.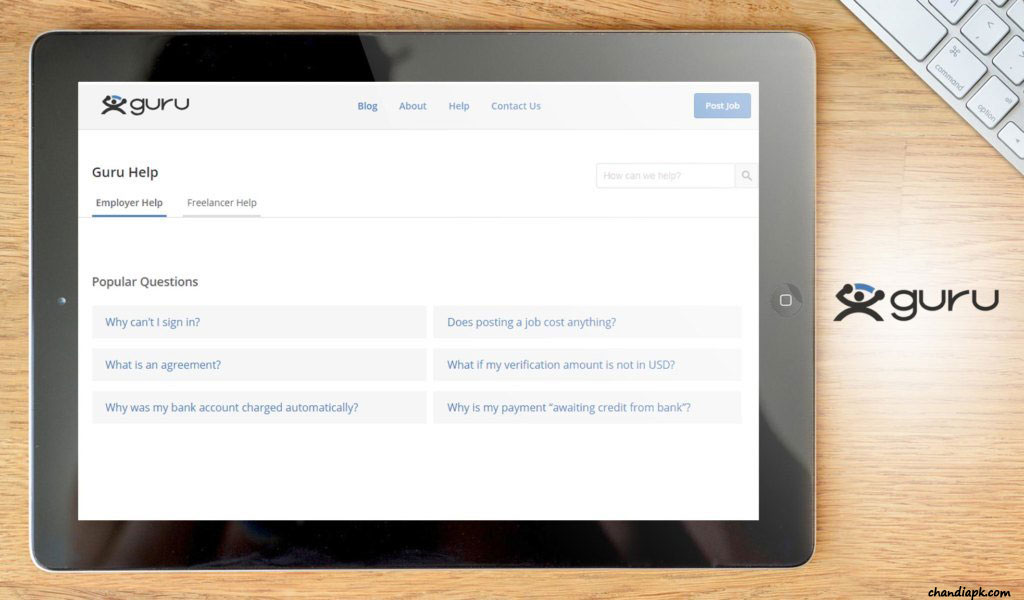 You can quickly contact with potential clients and can win jobs easily if you are expert in your skill. This freelance site is the best platform for beginner freelancers.
6. Flex jobs
This freelance website has more than 50 categories in different jobs. You can easily find out a job at this platform in your related niche. When a client posts a job related to the type you search for, this site immediately informs you by its notification.
You can easily approach the client and can win the client if you are an expert and professional in your skill. This freelance platform is best for beginners to find jobs in both long term and short term projects.
Starting a freelance career fist, you should know all the necessary knowledge about freelancing. In this article, you will learn all about freelancing and how you can become a successful freelancer. 
Freelance writing gigs
This freelance site posted a considerable number of jobs for writers like blog writing, web writing, copywriting, article writing, etc. this freelance site is the best opportunity for freelance writers who start their freelance writing career.
You can make your profile on this freelance platform easily and can win clients in your specific niche.
Things to understand before choosing Freelance websites for beginners
Before starting freelancing, first of all, you need to develop any skill that you can sell to your client, and from this skill, you can earn money. If you are a great writer, you can be a successful content writer. You can create websites, and you can be a website developer. If you are a designer, then you can become a successful graphic designer. There are hundreds and thousands of skills that you can sell online to generate income.
If you are already skilled full and you have a skill that you are confident about that you can sell online. You want to love work from home than congratulation. Freelancing is the best choice for you to pursue your career as a freelancer. I know in the early days or months when you have any skill, but you don't know how to sell this skill to earn money. What are the platforms where you can apply and can get high payable clients where you can show your expertise? What are the best freelance platforms that you can use as beginners?
There is some freelancer who will advise you to not to use these freelance website. There are both upside and downside of using these freelance websites. When you win clients through these websites and earn some amount of money, these websites have their commission that you have to pay these freelance websites when you withdraw your amount.
As a beginner, it is hard to find the client, and these websites can be the best opportunity for you to find your first client. When you complete your work, you get the review from your clients which can lead you to a successful freelance career.
Should you join multiple top freelance sites?
As a beginner, many freelancers make that mistake that they always join and establish their profiles at freelance websites to get more jobs. Do you think that? If you sign up for more sites then you will get more clients then you're mistaken. How can you focus on all of these websites at the same time? You can't put all of your energy in the same quantity to all of these sites this is not even possible for a single person.
Top freelance websites will rank your profile if you are online most of the time. The feedback from your clients also plays a vital role to rate your profile. As a beginner, make sure that you are not making the same mistakes. Mistakes most people do as a beginner freelancer. Put all of your focus and energy at one or two platforms and win the clients and become a successful freelancer.
Click here for more inormation articles